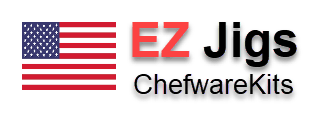 Chefwarekits
Your basket weave illusion tips are wonderful! Just ordered the 12" indexing wheel!
Got kit today, WOW what a great looking tool, outstanding machining work. Road testing this weekend. cheers
This was the essential tool I needed for a recent job making Victorian finiels. My customer was very pleased, which makes me very pleased which earns EZ Sphere 5 Stars! Will definitely purchase from Chefware again in the future.
You did well I am using the jig as we speak Like the way it works took me a while to figure out how the various index rings worked but so far feels pretty good Nice piece of design guys.
These are great! Used them for the first time yesterday and was amazed on how much cleaner the lines looked compared to using a sharp tip! Love them!
Great high quality kits. Good service
Great job!. I cut threads the very first time on a chunk of Osage Orange trimmed out with Purpleheart for a Valentine gift for my wife. The system is tough, rugged and well machined. Can't wait to try out the sphere jig add-on!
I've looked over my jigs and I think they are money makers, they are awesome! I'm try to finish up a couple of orders , then I can make some awesome pieces. On a scale of one to ten the jigs are a 15 lol
I received my template and am quite happy with it so far. I have made a dozen boards and all is good. Would like a 3 track same size. It's been a great way to use up small pieces of wood. These are 22" long and have been engraved with a laser.
Overall, very happy. Shipping was somewhat delayed past the promised date, but given the current situation, that's entirely understandable. The customer service was outstanding, particularly in response to my needing a shorter tool post. I haven't used the sphere jig yet, but the threading rig is very easy to use once it has been set up once or twice, and after assembling the sphere jig, I anticipate no trouble with it. I've recommended the tool to several of my fellow turners.
This may be a stupid question, but is the inside diameter of the hole in the 1-1/4 disc 1-1/4"? Your one illustration confuses me.
the center hole has a dia of 1-1/4in
What is the thickness of the disc?
approx 1/8in
I am interested in the thread cutting jig, but I would appreciate a clarification of what you mean by swing. I have a Powermatic 3520 which will take up to a 20 inch platter, but it measures 10 inches from headstock center to the ways. Thanks, John
the swing is the max diameter piece you can turn so 20in on a PM 3520 and you will need a 1in dia x 8in long post.
Can you show an actual picture. Trying to determine the start and end (how it looks(
the diagram posted is accurate. the start and finish is the same hole which is outlined in the black circle on the right.
Is there a corresponding spring loaded drill bit included with this? Would love to see a video of one being made. -Stacy
this kit requires a common 1/8in dia wood drill bit which can be picked up at any hardware store.
Are these the same pegs that come with the 3-lane template kit?
yes
How often do you have to replace the thread cutter?
Depends on how much threading you do and if you clean the cutter if it comes in contact with CA glue. The cutters are made to cut steel so they should last a long time.
What is need if i purchase a different lathe in the future?
If the lathe has a larger swing you might have to purchase a longer banjo post which are inexpensive.
Can I get a 10 tpi instead of a 16 tpi spindle?
Yes simply choose that option above which is free of charge.
Can I purchase the Sphere add-on later?
Sure we offer a sphere add-on kit however you will end up spending more money in the long run.