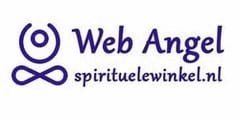 Spirituele winkel Web Angel
Klant heeft een beoordeling van 5 gegeven
(Translated by Google) Very happy with it and nicely packaged! Thank you!! (Original) Ben er heel erg blij mee en leuk verpakt! Dankjewel!!
(Translated by Google) Great top and fast People who complain about this store call and everything will be arranged so there is no need to complain, stay positive, this store certainly does that (Original) Geweldig top en snel Mensen die zeuren over deze winkel bel ff op en alles word geregeld dus zeuren hoef echt niet blijf posetief dat doet deze winkel zeer zeker
(Translated by Google) Book ordered. Received very neatly and carefully packaged the next day. Also nice that packaging was in paper instead of plastic. I think it's important. (Original) Boek besteld. Dag later heel netjes en zorgvuldig verpakt ontvangen. Fijn ook dat verpakking in papier was ipv plastic. Vind ik wel belangrijk.
Klant heeft een beoordeling van 5 gegeven
(Translated by Google) Nice to take a look inside. There are several articles . Eg: figurines, incense, gemstones, singing bowls, etc. The seller gives a good explanation. (Original) Mooi om eens binnen te kijken. Verschillende artikelen zijn er . Bv : beeldjes ,wierrook ,edelstenen, klankschalen enz. De verkoper geeft goede uitleg .
Klant heeft een beoordeling van 4 gegeven
Klant heeft een beoordeling van 5 gegeven
Super leuke beertjes! Netjes verpakt en snel binnen! Gebruikt voor leuke afscheidscadeautjes.
Snelle levering, perfect service
Prachtige piramide in mooi doosje top
Weer een heerlijke wierook gevonden met deze 7 chakra witte salie wierook. Webangel heeft een speciaal plekje in mijn hart. Ze hebben iedere keer weer verrassende nieuwe artikelen en je voelt gewoon dat de pakketjes met liefde en aandacht zijn verpakt. Jullie zien me snel weer! :-)
Ruikt goed en voelt goed.
Deze wierook was een nieuwe ervaring voor mij, maar eentje die goed bevalt!
Heerlijk om tussendoor mee te reinigen!
Normaal reinig ik regelmatig het huis met witte salie blaadjes. Ik wilde ook iets voor tussendoor proberen, voor als iemand "zware energie" heeft achtergelaten en ik weinig tijd heb om uitgebreid te smudgen. De dame van de klantenservice heeft mij goed geholpen en geadviseerd om dan eens witte salie wierook te proberen. Ik heb verschillende soorten gekocht om te proberen en dit is één van mijn favorieten. Zeker voor herhaling vatbaar.
Makkelijk bestellen fijne klantenservice en heerlijke geur